To help prevent the spread of COVID-19, Indian Run UMC will be closed during the week and on Sunday mornings until Franklin County returns to Level 2 (orange) status on Ohio's Public Health Advisory Alert System.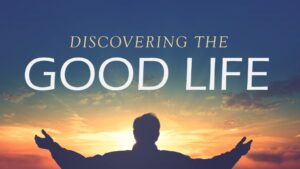 LIVE STREAMING AT 10:00am
Our Current Sermon Series:
The good life. It's a concept that often seems elusive or unattainable. So, what is the good life? What is happiness? What is success? How should I treat other people? How should I cope with unfortunate events? How can I get rid of unnecessary worry?
The good news is that Jesus offers us a roadmap to the good life in a group of sayings we call the "Beatitudes." Join us in October and November to discover how following the way of Jesus enables us to live the good life – a life of meaning and purpose, a life that makes a difference.
If you can't join us live,
click HERE to watch the replay
(available after the service concludes)
If you experience technical difficulties with the stream click
HERE
to help us troubleshoot
Watch Pastor Jeff's latest update regarding re-opening for in-person, indoor worship
Need some musical inspiration?
"

Grow love in ourselves, our families, our community,and in the world, so that more people will know and follow the way of Jesus."