Join us in-person or online for worship every Sunday!
9:00am – Traditional Service
10:00am – Coffee and Treats in Fellowship Hall
10:30am – Contemporary Service
If you can't join us live, click HERE
for a replay (available shortly after the service concludes)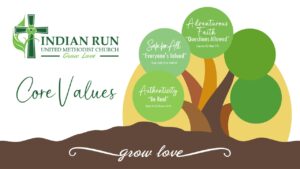 Be sure to join us for worship in September and October to learn about the new Core Values that Indian Run's Leadership Board has discerned. We'll hear how each of the core values were developed and what it means for the future of our church. You won't want to miss a week!
Click HERE for more information on our Core Values.
"Grow love in ourselves, our families, our community, and in the world, so that more people will know and follow the way of Jesus."