Psalm 126:1 When the LORD restored the fortunes of Zion, we were like those who dream.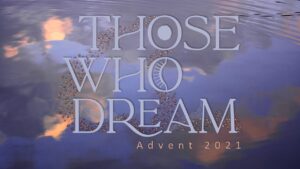 Advent is a season for the dreamers in all of us—those who dream of a deeper connection with God and those who dream of a better world. It's for those who dream of comfort and for those who have given up on their dreams. It's for those whose dreams have been crushed and for those who show us that dreams take time. Join us this Advent as we dream alongside prophets and angels, Mary and the Magi.
Join us as we seek and sow God's dreams for our world.
Count down to Christmas Day with daily "Star Word" Devotions
Together we will count down and prepare for Christmas by reflecting each day on one of these words. Star word devotions can be meaningful for the whole family, so be sure to get everyone involved. Select the word for the day, then choose a meditation from below. As you meditate on these words, set aside the ones that speak to you most.
• Look up the definition of the word, even if it is a word you know well. Does the definition or
etymology
make you t
hink differently about this word? Where do you hear or see this word used?
• What does this word remind you of? Does it recall any memories or experiences? How might God be speaking to you
through this word?
• See if you can find your word—or a synonym—in the Bible. What scripture passages can you find? How is the word used
in these passages? Are there other scripture passages that remind you of your word?
• Write or speak aloud a prayer using your word.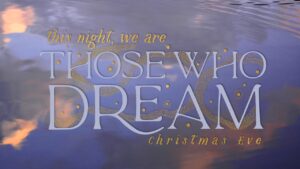 Christmas Eve Candlelight Services
5:00pm & 7:00pm Contemporary
9:00pm Traditional
11:00pm Traditional with Communion
Tonight, we are those who dream!
Tonight, we dream the same dreams of our ancestors before us.
Tonight, we dream of justice & mercy, of love & kindness, of peace & hope.
Tonight, we dream of a God that draws near to us out of unfailing love!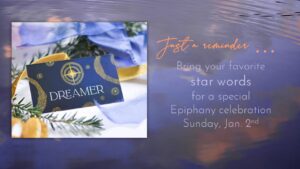 Epiphany Service
Sunday, Jan. 2nd (Both services)
Be sure to bring back your favorite star words for a special blessing and redistribution as we remember the coming of the Magi to visit Jesus, bringing their gifts of gold, frankincense and myrrh.
Services are at 9am and 11am with Coffee Hour starting at 10am in the Fellowship Hall.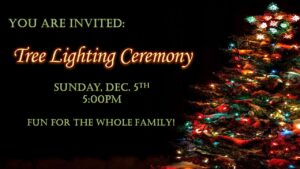 Tree Lighting Celebration
Sunday, Dec. 5th at 5:00pm in the front church parking lot, we will be preparing the way for the baby Jesus with an old-fashioned tree lighting celebration. There will be hot chocolate and cookies, caroling, and a beautifully lit Christmas tree. Be sure to bring your decorated star ornaments from your Advent bag to hang on the tree. Come join us and bring a friend or neighbor. All are welcome!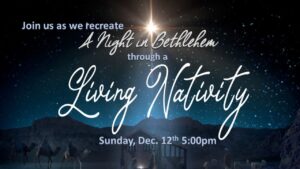 Interactive Nativity
Sunday, Dec. 12th at 5:00pm we will be creating an interactive Nativity. All children are invited to participate in an impromptu telling of the Christmas story. Every child gets to choose a costume and participate. Come join us as we recreate that not so silent night when God's dream for the world was born in a stable. There will be hot chocolate and cookies, caroling, and probably a lot of laughter. The costume shop opens at 4:30pm. Bring a friend or neighbor. All are welcome!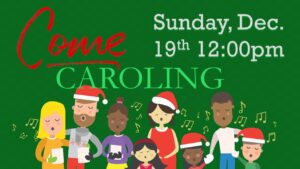 Christmas Caroling
Sunday, Dec. 19th at 12:00pm join the Indian Run Youth Group as we go into the community to carol and spread Christmas cheer. Meet in the Fellowship Hall for a light lunch and rehearsal. We will then break into carpool groups and head out to carol. Driving instructions and songs sheets will be provided.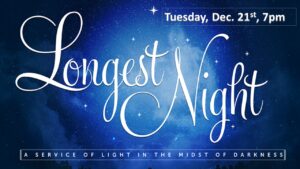 Longest Night Service
Tuesday, Dec. 21st at 7:00pm.This special service on the winter solstice—the longest night of the year—recognizes that not everything is festive and bright for everyone during the holiday season. This Service is a safe and sacred space to bring our pain and loss into God's presence, to pray for justice and restoration, to hope against hope. Through the help of music and special readings we will remember that our God of compassion walks with us during the dark days.