To help prevent the spread of COVID-19, Indian Run will be closed during the week and on
Sunday mornings until Franklin County returns to Level 2 (orange) status on
Ohio's Public Health Advisory Alert System.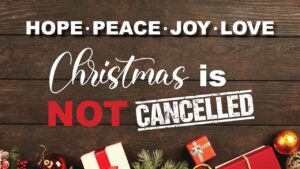 LIVE STREAMING AT 10:00am
Our Current Sermon Series:
Global pandemic, civil unrest, political divisiveness, natural disasters…2020 has been a difficult year.
Now more than ever, we need the good news that comes at Christmas:
the gifts of hope, peace, joy, and love that are never-ending. No matter what 2020 throws at us…
Christmas is NOT Cancelled
Join the movement! Help bring hope, peace, joy, and love to our community and world this Christmas. Join the conversation, share ideas, be inspired, and discover how you can make a difference this Christmas season by going to www.ChristmasNotCancelled.org.
If you can't join us live,
click HERE to watch the replay
(available after the service concludes)
Need some musical inspiration?
Our Mission is to "Grow love in ourselves, our families, our community,and in the world, so that more people will know and follow the way of Jesus."