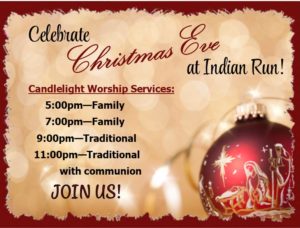 Please join us every Sunday!
WORSHIP TIMES
9:30am – Traditional Service
10:30am – Brunch Fellowship
11:00am – Contemporary Service
A wide variety of programming is available during both services for infants through adults including childcare and Bible Study
Communion is offered on the 1st Sunday of every month
No matter where you are on your journey of faith, we welcome you to be a part of our church family. We pray that you will find Indian Run to be a place where you can come to know the infinite love of God and the abundant life that comes from following Jesus.