Join us in-person or online for worship!
If you can't join us live, click HERE for a replay (available shortly after the service concludes)
Masks, physical distancing, and reservations are optional. Recognizing that some people still prefer distanced seating, we have reserved a part of the sanctuary for that purpose. If you would like to ensure your seating is physically distanced, click the button below to reserve your seat.
Watch this video for a tutorial on how to use our online reservation system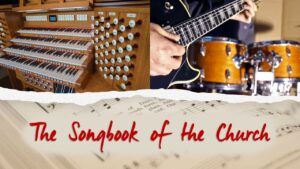 Our Current Sermon Series:
Music is such an important part of worship, but some of us are only familiar with the contemporary songs while others among us only know the hymns. Join us for our latest sermon series as we explore "The Songbook of the Church." Each week we'll match songs from both styles of worship music and discover the common themes and emotions they convey.
Need some musical inspiration?
Our Mission is to "Grow love in ourselves, our families, our community,and in the world, so that more people will know and follow the way of Jesus."