Indian Run offers two Sunday services to give you a choice of worship experiences. The 9:30am Traditional Worship Service includes traditional hymns, organ music, choir, multiple scripture readings, and has a more traditional feel. The 11am Contemporary Worship Service includes contemporary praise and worship favorites led by the praise team with piano, guitars, etc. and has a more relaxed feel. The sermon series message is the same at both services.
CURRENT SERMON SERIES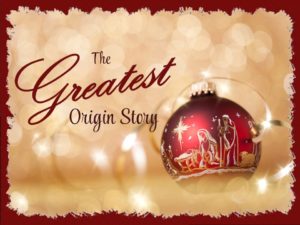 All superheroes have origin stories. During the Advent and Christmas season, we'll look at "The Greatest Origin Story" ever told…the story of the birth of Jesus, as told in the Gospel according to Luke, chapters 1-3. The series will also include a Pastor's Bible Study on the 1st and 3rd Tuesdays of each month at 7pm where we'll discuss the passages from Luke that will be discussed in upcoming sermons. We hope you'll join us as we seek a deeper understanding of Jesus and how to follow him.
SUNDAY WORSHIP TIMES
9:30am – Traditional Worship
10:30am – Fellowship Brunch
11:00am – Contemporary Worship
Professional nursery care and a variety of Christian education classes are available for children—adults during each service.
Holy Communion is served the first Sunday of every month during the worship services.
Dec 1, 2019

Zechariah's Story

Nov 24, 2019

Teach Us to Pray

Nov 17, 2019

Hearing and Doing

Nov 10, 2019

The Mission of the Seventy

Nov 3, 2019

Jesus' Halftime Speech

Oct 27, 2019

Who is Jesus?

Oct 21, 2019

Three Healing Stories

Oct 13, 2019

Stories, Parables, and Sayings

Oct 6, 2019

The Pharisee and the Sinful Woman

Sep 30, 2019

Shall We Wait?